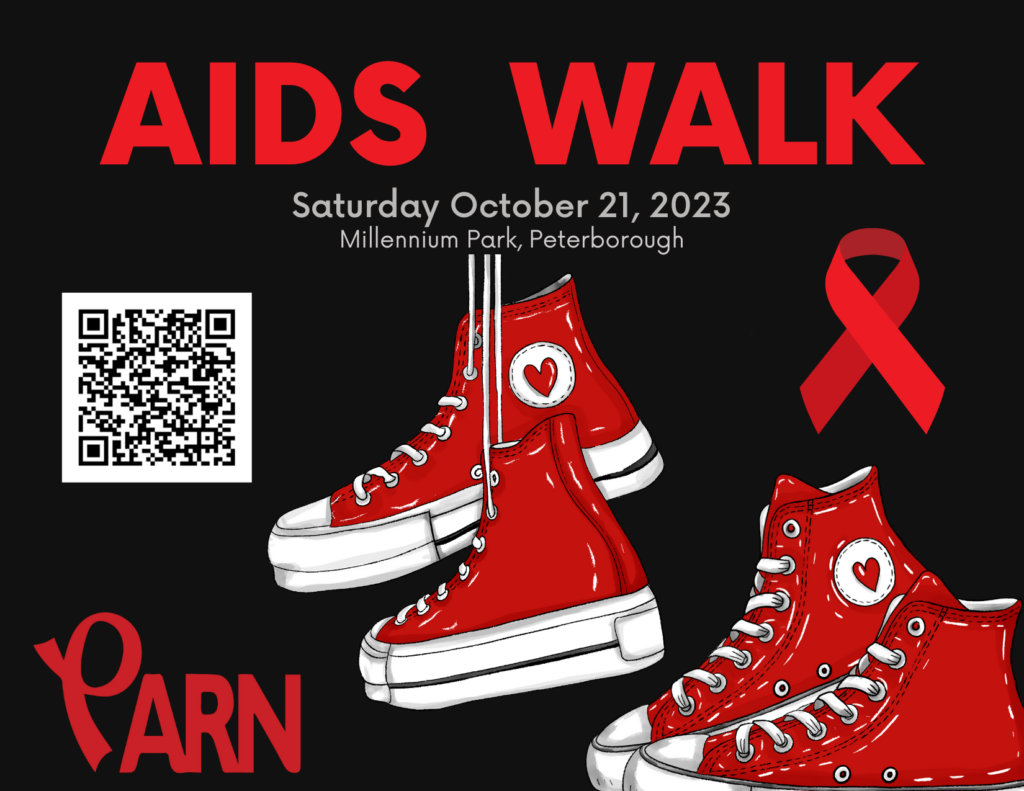 Join us at the AIDS WALK
Saturday October 21st, 2023 | Millenium Park, Peterborough
Our Mission
PARN is a community based agency providing support and health promotion for people HIV-infected and HIV-affected. PARN provides education for people at risk for HIV and awareness of HIV issues to the broader community.
Our Goals
To promote the well-being and independence of people living with or at risk for HIV and/or AIDS in the counties of Peterborough, Northumberland, Haliburton and Kawartha Lakes by providing services such as: counseling, workshops, and information on progression and treatment of the condition for themselves and their families; referrals to other service providers; basic necessities to those in need; and assistance with other health issues.

To prevent the transmission of HIV by providing education, information and resources to groups at risk and the general public in the counties of Peterborough, Northumberland, Haliburton and Kawartha Lakes.
HIV Support
Our anchor program at PARN, we offer compassionate and confidential support to people who are living with and affected by HIV and/or AIDS in the City of Peterborough and the four counties of Peterborough, Haliburton, Northumberland and City of Kawartha Lakes.
We will meet with you and listen to your needs. If you are living with HIV and/or AIDS, we will help you find the services you need, and support you as you learn more about living with HIV and/or AIDS.
There are a variety of programs and services offered by PARN that may assist you in your everyday life. These include a lending library, an emergency financial assistance fund, access to the internet, emergency food services, and referrals to a variety of other supportive community agencies. We also offer harm reduction education and supplies at no cost, like condoms and lube, as well as new injection and inhalation equipment.
PARN's support services include:
Initial intake and assessment: this is an opportunity for us to learn more about you and for you to learn more about us. We will begin to get a sense of your experiences, challenges and needs, and you can learn about PARN, our programs, services and partners.  We will ask you to provide confirmation of HIV status and proof of residency within our region.
Supportive counselling: either in-person or by telephone on issues related to living with HIV and/or AIDS, and general health and wellness. This is not therapeutic counselling.
Referrals to other community services: these include local or 4-county/regional supports and services like legal, housing, mental health, and other HIV-related supports and services.
Positive Care Clinic: provides HIV & Hep C testing and treatment in Peterborough at the PARN site on Wednesdays and Thursdays.
Social activities like the Holiday Social and the Annual Picnic are opportunities to expand your social network, connecting with others living with and affected by HIV and/or AIDS.
What if I am a guy with HIV?
Please contact the following folks for support and information:
Hep C Services @ PARN
Hep C Services @ PARN works to ensure that people living with and at risk for Hep C have increased access to testing and treatment.
We are working in partnership with Lakeridge Positive Care Clinic and the Durham Community Health Centre to establish an integrated network of Hep C services to ensure that people living with and at-risk for Hep C have increased access to services in community.
You can reach PARN's Hep C Program Coordinator at:
Becky Lyon

Peterborough Hep C Program Coordinator
GBMSM Program
This program is geared toward building community and capacity for Gay, Bisexual, and other Cis and Trans Men who have sex with Men in the Four Counties. Our work is guided by the community with some direction from the Gay Men's Sexual Health Alliance of Ontario (GMSH).
Contact Shikhar or Shan for more information and how you too can get involved.
Women and HIV
The Women and HIV/AIDS Initiative (WHAI) is a community-based response to HIV and AIDS among Cis and Trans women in Ontario.
Through education and community collaboration, our goals are to:
Reduce HIV transmission among women in Ontario

Enhance local community capacity to address HIV/AIDS

Build safe environments to support women and their HIV/AIDS related needs
Contact PARN's WHAI Coordinator, Brooke Dewhurst , for a tailored workshop on subjects ranging from gender and harm reduction, gender-based violence, community & emotional wellness as a strategy for addressing stigma, discrimination and institutional violence and healthcare centered on women's needs & lived experience.
Check out WHAI at PARN Facebook & Instagram and join the conversation.
Harm Reduction Works @ PARN
PARN provides harm reduction supplies to people who use injection and inhalation drugs in order to reduce the risk of HIV transmission and other blood-borne infections.
Harm reduction is a range of pragmatic and evidence-based policies and practices designed to minimize the harmful consequences of drug use and other high risk activities.
It focuses on supporting people as they attempt to make informed decisions about their use and remain as safe as possible. Harm reduction strategies respect a person's right to continue to use while providing options, support and resources to minimize the negative consequences or "harm" that may result.
Non-judgmental service delivery means meeting people where they are at and is the heart of a Harm Reduction approach.
To contact Harm Reduction Works Outreach please call 705-559-0656.
Rainbow Youth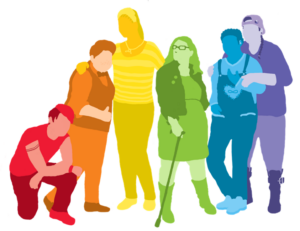 The Rainbow Youth Program works to make lesbian, gay, bisexual, transgender, 2-spirit, queer and questioning (LGBTQ+) youth feel safe, included, and empowered in Peterborough and the four counties. We give LGBTQ+ youth the space to be themselves and the tools to lead positive change in their schools, peer groups, and community.
In the 1990s, LGBTQ+ youth in the four counties raised their voices; their needs were not being met in their schools, doctors' offices, faith groups, workplaces, and communities. Thanks to their determined self-advocacy, service providers like PARN began working on solutions. In 1998, a small group of service providers, community members, and youth came together, secured a 3000$ grant, and founded the Rainbow Youth Coalition to better serve queer youth in the four counties.
Today, the Rainbow Youth Program hosts a weekly youth drop-in with an average of 100 youth attending in a year. Our youth ambassador program, the queeRAdicals, are active in community outreach, including delivering inclusivity trainings to local schools, service providers, and organizations. The RYP is also involved in organizing many events, including Peterborough Pride, and building partnerships with schools, GSAs, and organizations throughout the four counties.
What We Do:
queeRAdicals – Mentoring Youth Leaders in Fostering Change in their Communities




Weekly Drop In – Supporting Youth Resilience and Community Building
Please contact Leah by email  to find out more.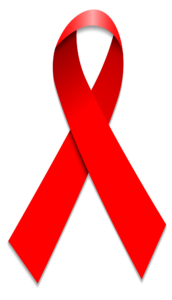 Request a Workshop
PARN provides a variety of workshops and training, including specifically related to our Harm Reduction, Rainbow Youth and Women and HIV (WHAI) programs
If you have any questions or for more information please contact:
Lora Keitel, Manager of Education Services, at 705-749-9110 or .

Volunteer with PARN

Volunteers are an integral part of the PARN team. If you're interested in volunteering with us, all you have to do is contact Bridget Hall, Manager of Volunteer Services. She can be reached via email at bridget@parn.ca, or phone 705-749-9110 ext 208, or 1-800-361-2895. We will provide you with information and answer any questions you may have.
To get you started, here are answers to some frequently asked questions:
What do I have to do?
You can choose how you would like to help. We let you know what activities are coming up, and then you can decide with us what interests you most.
---
How much time do I have to give?
Some like to volunteer once a month, others help out two times a week. You let us know how much time you would like to share with us.
---
Can I do my Student Placement here?
Thank you for your interest in completing your student placement with PARN. Each year we receive numerous applications from students in a wide range of post-secondary programs. As privileged as we are to have such a great response, this means that we are not able to accommodate every student who applies.
Please download and complete the form below so that we can get to know you and your goals for placement.
We will reach out to selected students for interviews before the start of the semester. Please return a completed application to Christine Nield, Interim Manager of Volunteer Services at along with an up to date resume and cover letter.
Thank you again for thinking of PARN for your post secondary placement, we wish you all the best in your educational journey.
---
Do you train volunteers?
Not to worry, our staff provides individual and formal group training sessions for all eligible volunteers.
---
What things can I do?
office reception
help organize special events
write articles for the newsletter
graphic design
postering and marketing assistance
research
application of computer knowledge
committee work (fundraising, social action, special events)
take photos
make red ribbons
photocopying, envelope stuffing, stamping pamphlets
be a board member
keep track of pamphlets
and more!
---
JOIN PARN

Volunteering with PARN is not the only way to show your support of PARN. Community members may become Enduring Members, or Board Members. Occasionally Job Vacancies may also be posted here. Learn more below.

Become an Enduring Member
In April 2013, PARN updated its policy by developing the new Enduring Membership. This recognizes people's on-going interest in helping PARN continue its work to provide HIV prevention and support, right here in the four counties.
A new application form ensures that individual and associate memberships are renewed  automatically every April 1, unless a member submits a formal resignation, the board of directors resolves to remove a member, or a member no longer agrees with the mission statement and goals of PARN.
The Enduring Membership is free, and non-transferable. It entitles members to receive agency newsletters and other communications, as well as invitations to special events and annual general meetings at which voting rights may be exercised.
To learn more about this, please download our application form.
OUR BOARD
PARN's work is guided by a Board of volunteer directors who ensure that PARN is meeting and exceeding its commitments to the communities we serve in Peterborough County, Northumberland County, The City of Kawartha Lakes and Haliburton County. If you are interested in joining PARN's Board of Directors, please download the application here and email the completed form to Stacey at with the subject line: "Board Application".
You may email the Board of Directors at .
To contact the Board Chair directly, please email .
For Board committees, please email .
WORK AT PARN
There are no current vacancies at PARN. This will be updated with any postings as they occur.
Make a Donation

PARN depends on donations from engaged community members to support a number of our programs. Fundraised dollars are used to support projects such as the Lane Fund which provides financial assistance for people living with HIV and/or AIDS to meet emergency needs that are not covered by existing medical and social services. Donations from the community also support out Rainbow Youth and Harm Reduction programs.
Making a donation is simple:
By Mail:
60 Hunter Street East, 2nd Floor,

Peterborough, ON, K9H1G5
Address:
60 Hunter Street East, 2nd floor
Peterborough ON
K9H 1G5