For treatment, you will be referred to a health care team and/or specialist. Treatment is available at no cost, all you need is a health card. The average length of treatment is about 8-12 weeks, and most treatment involves taking 1 to 3 pills a day. Hep C has many strains (or genotypes), and medical treatment is specific to the genotype.
Treatment is
over 95%
effective!
Treatment for hep C comes in the form of medication called direct acting antivirals (DAAs). This medication stops the virus from being able to multiply in your body. Most hep C treatments include at least two or more types of DAAs. This is because different DAAs stop the virus from multiplying in different ways. However, some people may not need to take any medication at all. Around 25% of people can clear hep C on their own. If you are diagnosed during the acute phase of your infection your doctor may recommend that you wait for around 6 months to see if you can clear the virus on your own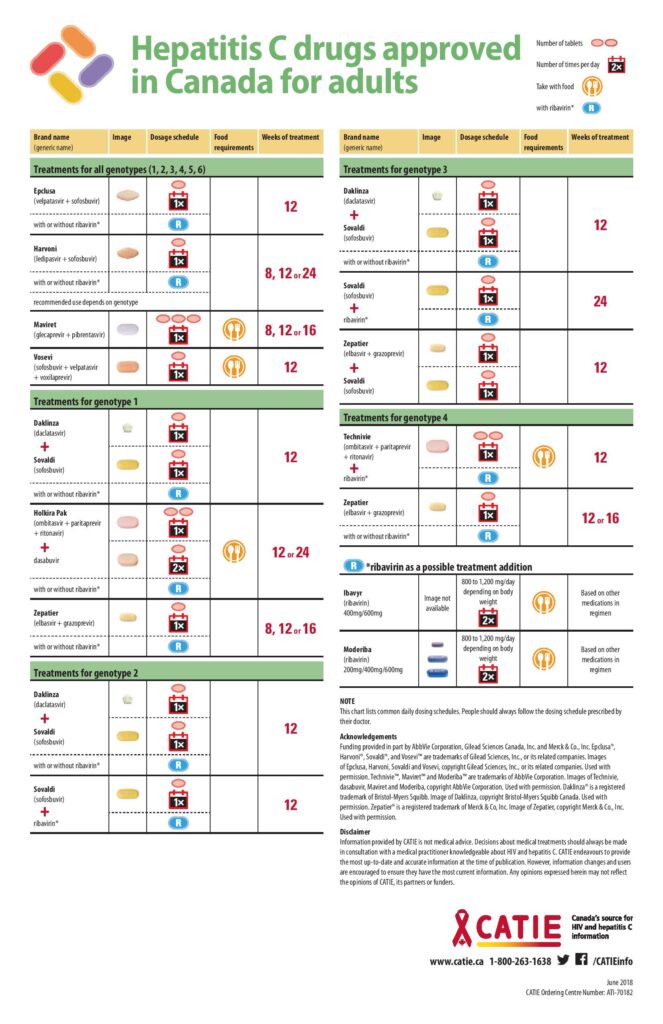 After treatment:
Being cleared of hep C means that the virus cannot be detected and is no longer in your body. In order to be cleared of hep C you must take another RNA test 12 weeks after completion of your treatment. If the virus is undetectable then it means you have been cured.
Please note that if you have ever had hep C in your lifetime, you will always test positive for the screening test. 
Additional info
Your healthcare provider will talk to you about factors to consider. These include:
Do you have any liver damage?
Do you have any other health conditions?
Are you on any medications?
Are you pregnant?
Note: the stigma experienced due to substance use is not a reason to deny treatment.
Please be sure to connect with your healthcare provider to get answers.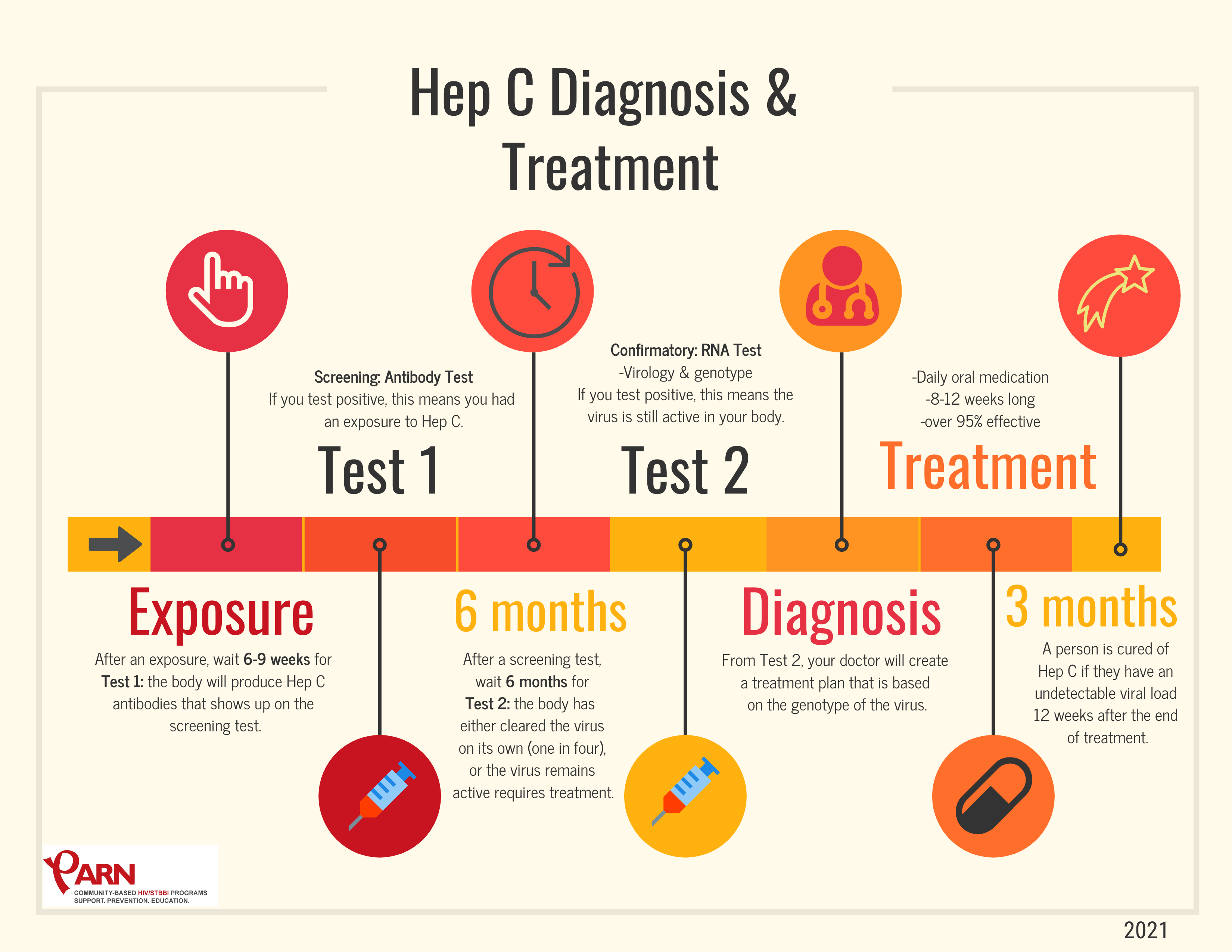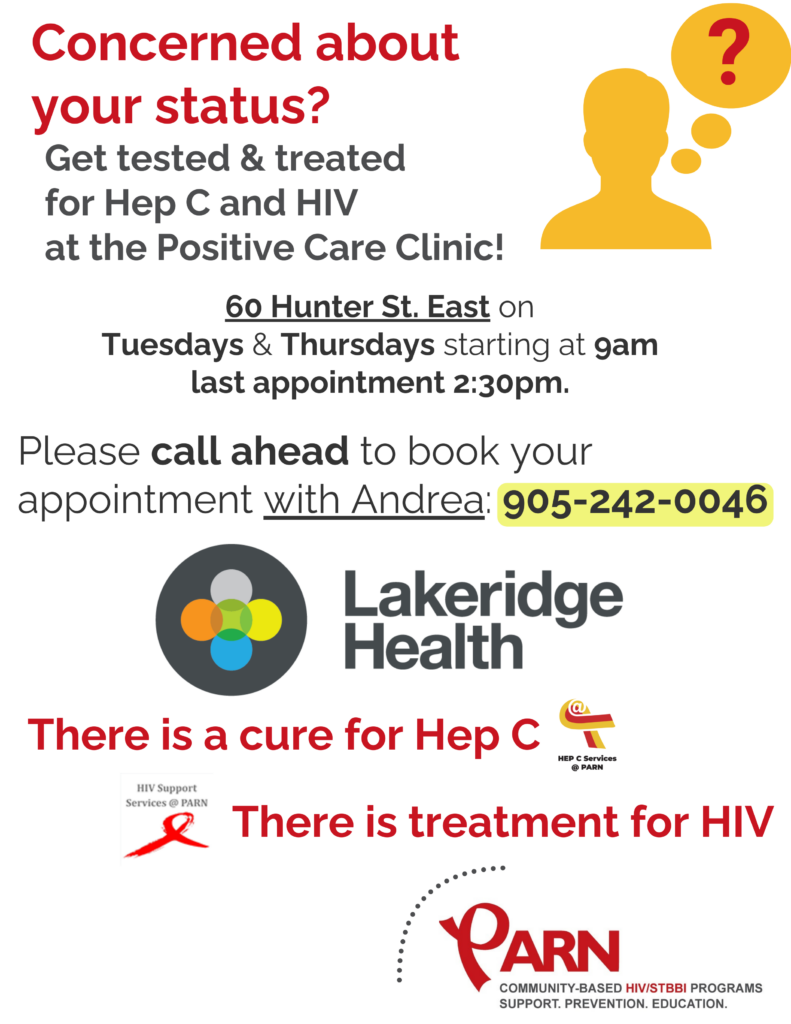 Hep C Services @ PARN works to ensure that people living with and at risk for Hep C have increased access to testing and treatment.

We are working in partnership with the Positive Care Clinic and the Hepatitis Program at Carea to establish an integrated network of Hep C services to ensure that people living with and at-risk for Hep C have increased access to services in community.

You can reach PARN's Hep C Program Coordinator at:

Outreach: 705-957-3568

Office: 705-749-9110